Mourne Archery Centre
Welcoming, safe and fun
Fantastic fun day out for the whole family. Katy and Mick are brilliant giving basic understandable instructions for first timers and technique advice as you improve. Having never shot an arrow before my first visit I left total impressed with how many arrows were hitting the target thanks to Katy. I have booked sessions for my husband and myself, and for groups of 15 aged from 5 years and up. Katy is great at keeping it interesting making sure even in a large group of mixed experience everyone is challenged and the time flys in. Looking forward to my next visit
Donna, July 2017
Hiya, I'm Katy! I started Mourne Archery Centre in 2009 because I wanted to provide a service to my local community and I knew archery would be a great way to do that. I am passionate about keeping our sport accessible and affordable, about providing a space for kids and adults to learn new skills and meet new people. I'd love to have you down to the barn so I could show how we build community and have a lot of fun in the process.
The centre is based in a barn in the middle of Maghera, Co. Down - really close to Newcastle. Our normal sessions run for 3 hours with a variety of fun games ranging from traditional target shooting to popping balloons. We can have 15 shooters on the line at any one point and for larger groups we can take turns.
As well as providing a venue for one-off events, we also have an active and committed membership. We have dedicated nights for our members for competition, socialising and skill building. Members also get better rates when they are booking for their families and friends.
Really can't rate this place highly enough. Five adults and a rather excited wee dog dropped by for a bit of fun, and boy we weren't disappointed. Katy and her Dad Michael were absolutely superb. From instructions and tips and some great games, it was 3 hours of brilliant fun. The competitive streak in me never appeared once :) Seriously ? We couldn't contain ourselves. Brendan kept our wee terrier entertained while we cracked on with the serious business of beating each other. A cup of coffee and a few biscuits in between games made for a great afternoon's craic. Will we be back ? With bells on
Davy, May 2017
What's on?
All sessions are booked in advance - these are the time slots that are normally available.
| Monday: | 10.30-1.30 | 2.00-5.00 | 5.30-8.30 |
| --- | --- | --- | --- |
| Tuesday: | 10.30-1.30 | 2.00-5.00 | 5.30-8.30 |
| Wednesday: | 10.30-1.30 | 2.00-5.00 | |
| Thursday: | 10.30-1.30 | 2.00-5.00 | 5.30-8.30 |
| Friday: | 10.30-1.30 | 2.00-5.00 | |
| Saturday: | 10.30-1.30 | 2.00-5.00 | 5.30-8.30 |
| Sunday: | | 2.00-5.00 | |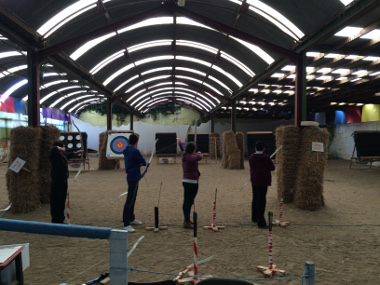 We only charge £10 per person.
For that you get:
3 hours of fun (shorter if required)
3 seperate activities
All training included
All equipment supplied
Suitable for the whole family
Complimentary refreshments
Group discount available
I can honestly say that every time that we visit we are treated like royalty. Nothing is ever a problem and Katy and her team are professional at all times. We visited yesterday for my sons 14th birthday. Katy accommodated us at short notice and the kids and adult had a great time. Can I thank her son for his great company while I sat and watched. Hopefully we will see you again soon :)
Julie, August 2017
We have experience running events for everything from corporate days, charity fundraisers and birthday parties. If you'd like to organise a special event please get in touch with the form the below and we'll be in touch to explore possibilities.
I spent my Easter Monday at Mourne Archery Centre and I loved it. The centre is run by a lovely woman called Katy, who immediately makes you feel at ease with her wit and patience. The activity includes three hours of fun, learning how to shoot as well as taking part in tournaments plus there are tea and biscuits to enjoy. The perfect activity for people of all ages, I would definitely recommend the Mourne Archery Centre for something a bit different.
Bronagh, April 2017